Roeslein & Associates has acquired Method Flow Products, LLC, a provider of oil and gas measurement and automation products, services, and distribution systems as of March 31, 2023. Method Flow Products is headquartered out of Evans, Colorado, and regionally located across the United States to fully support major customers in the oil & gas market.
"Welcoming Method Flow into the Roeslein family of brands helps us push forward on meeting our strategic goal to diversify our business into new markets and to expand the application of our prefabricated and preassembled modular systems into new industries," said Roeslein President and COO Brian Sneed. "One of the most exciting parts of this acquisition is the strategic value that Roeslein & Associates, Inc., Servtech, and Method Flow Products will deliver to our customers."
The acquisition of Method Flow adds six additional locations across the United States and 71 professional services and skilled craft employees to Roeslein's existing global resource consortium. As an established name in the industry, Method Flow Products, LLC will be rebranded as Method Flow Products: A Roeslein Company.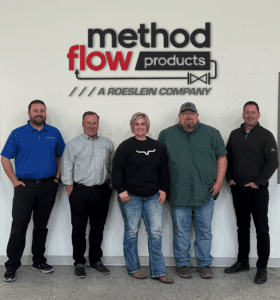 Servtech, acquired by Roeslein in 2021, and Method Flow will combine as complimentary business units. Servtech is a vertically integrated custom equipment manufacturer for the oil and gas market and mission-critical data center systems. Headquartered in Louisville, CO, 40 miles Southwest of Method Flow's headquarters, they will work in tandem to offer customers a unique approach to their project solutions providing modular design-build strategies and plug-and-play products through LEAN manufacturing operations and under a globally recognized safety program.
Following the transition, Method Flows management and employees will remain in their current roles while maintaining existing reporting structures. The company's current client base will benefit from the additional resources available through Roeslein's global network of engineering, manufacturing, and construction professionals. In addition, Method Flow's acquisition by Roeslein provides the current Method Flow customers with the same great products, services, and support that they have enjoyed for the last six years, along with the strength of a larger organization.
"Method Flow's customer-first culture is a perfect fit for integration as a Roeslein company," said Steve Martin, Executive Vice President at Roeslein. "The team, led by Matt Beamon, has an ethos aligned to Roeslein's, and their project methodology will undoubtedly make for a seamless integration. We look forward to combining our shared experience to continue providing the best-in-class value to our collective client base."
Method Flow's Founder, Matt Beamon, will remain in a leadership role following the acquisition. In addition to becoming an equity partner of Roeslein, he will serve as Vice President of Method Flow. "Through a previous professional relationship, I gained knowledge of Roeslein. With their similar culture, approach to projects, and structure, it became apparent there were many parallels to be drawn and leveraged between our two companies," said Beamon. "Our team is looking forward to the opportunity to be a part of a global organization and the benefits of employee-ownership through Roeslein's ESOP."