Roeslein & Associates, a global leader in engineering, fabrication, and construction solutions, recently attended the prestigious Latamcan tradeshow held in Mexico City from July 12th to 14th. This annual event serves as a pivotal platform for the packaging and can manufacturing industry in Latin America, attracting key players and industry experts worldwide. This year's show provided Roeslein & Associates with an ideal platform to showcase its cutting-edge solutions and reinforce its position as a global industry leader.
The event saw the convergence of numerous industry stalwarts, and Roeslein & Associates was represented by its esteemed team members, Robert Hayes, Operations Manager of South America; Roger Baker, Director of Operational Services; Johnathan Saunders, Director of MES & Technical Systems; and Martha Rojas, Global Business Development Executive.
Roger Baker, a prominent figure within Roeslein & Associates, led a captivating and insightful technical presentation on Reducing Unplanned Downtime and Reducing Spoilage: A Data-Driven Approach. Attendees were captivated by his expertise and in-depth knowledge as he shed light on cutting-edge advancements and best practices in the industry.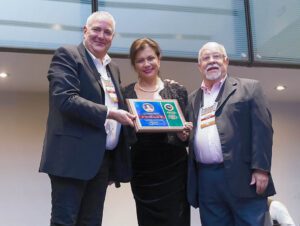 Highlighting the event was the groundbreaking achievement of one of Roeslein & Associates' own, Martha Rojas. Her exceptional career and significant contributions to the packaging industry were recognized as she was awarded the esteemed Lifetime Achievement award. Notably, Martha and her co-winner, Teresa Ramos, have made history by becoming the first females in the industry to receive these prestigious awards! This recognition marks a significant milestone for women in the industry.
"We are immensely proud of our team's exceptional performance at LatamCan," said Dakota Harmon, Manager of Global Communications and Marketing at Roeslein & Associates. "Roger Baker's technical presentation and Martha Rojas' Lifetime Achievement award are a testament to our company's unwavering dedication to excellence and innovation. We congratulate Martha for her groundbreaking achievement, which serves as an inspiration to aspiring professionals across the industry."
Martha is the third Roeslein & Associates employee to achieve this award through the Latamcan show, previously awarded in 2019 to Mr. Ron Ragan, Director of Business Development, and Mr. Rudi Roeslein, Founder and Chairman of Roeslein & Associates, Inc.