Roeslein & Associates, Inc. will celebrate Women in Construction Week from March 6th-13th, 2022. Introduced by the NAWIC (National Association of Women in Construction), Women in Construction Week encourages women to venture into an industry that is predominantly male and celebrates those who have helped to forge the path.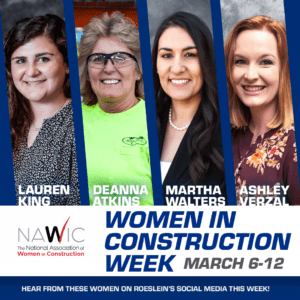 Martha Walters, Controller at Pride, said "Advancing women's career paths in the workplace, particularly in a male-dominated industry like manufacturing, pushes me to strive for more. I have a young daughter and feel an obligation to show her that no door should be closed to her simply because of her gender."
Roeslein & Associates believes in strength through diversity. With 103 female employees through 9 global offices, the company continues to promote this message within its company, employees, partners, and communities.
The Diversity & Inclusion Committee of Roeslein's initiative, The Roeslein Way, has aided in the promotion of women within the company and industry. This committee will be highlighting Roeslein's very own Women in Construction across all social media channels and through their internal communications throughout the week. This allows followers and employees to share posts with fellow friends and supporters of the industry.