1700 Shelton Dr, Hollister, CA 95023
P:  +1 (831) 637-1787
F:  +1 (831) 637-7678
E:  sales@roeslein.com
Pride Conveyance Systems
The growth of Pride Conveyance Systems /// A Roeslein Company is directly linked to an absolute commitment to meet and exceed customer's expectations through flexible attitudes, responsiveness, and proven expertise. With a highly skilled workforce, installation teams are uniquely developed from manufacturing facility crews allowing installers to have both conveyance manufacturing and installing experience. The combination of these skills shortens the installation period and allows for customers to see a quicker return on their investment.  With Pride's quality assurance program, every conveyance system is fully assembled, installed, and tested onsite.
All conveyance products are customized with the customers' need and specifications in mind. Pride Conveyance products are uniquely manufactured in one of Roeslein's six manufacturing facilities located in Red Bud, Illinois, USA; Hollister, California, USA; Michigan City, Indiana, USA; São Paulo, Brazil; Dębno, Poland; and Shanghai, China. With over 1 million sq. ft. of manufacturing space, not only can your personalized conveyance system be delivered faster than the industry standard but it is created with the optimum control and quality you've come to know and expect.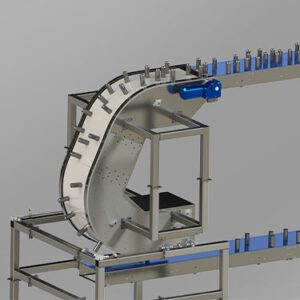 Additional Conveyance Products
Cup Accumulation Table

Gripper Elevator

Mechanical Conveyors

Pin Stripper

Wet Sprayed Systems

And more!
Pride Conveyance /// A Roeslein Company welcomes the opportunity to work with you. Have questions? Ready to schedule a meeting? Contact a member of Roeslein's business development division to start planning your conveyance solution today.