Why Roeslein & Associates?
Roeslein differentiates itself from traditional engineering firms by providing complete solutions for project implementation by emphasizing a modular engineering strategy early in the project-planning process.
With more than 1 million sq. ft. of manufacturing space worldwide, modules are precisely engineered for ease in transport via truck, rail, or sea. Roeslein's modular approach can successfully be applied to a variety of industries.
With office locations worldwide and projects in more than 60+ countries across 6 continents, Roeslein is ideally suited to provide modular solutions to a global client base, while providing exceptional value in controlled project risk, cost, schedule, and increased overall safety and quality.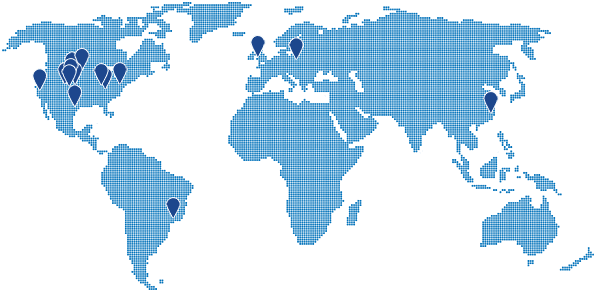 With over 30 years of turnkey project execution, Roeslein is an industry leader in engineering, manufacturing, and installation of modular process systems.
Why Prefabrication, Preassembly, and Modularization?
The key to success in prefabricated, preassembled, modularized project execution lies in thorough front-end planning. Roeslein guides clients through the early stages of a project by performing capital budgeting, feasibility studies, marketing planning, and process flow diagrams to ensure a smooth project implementation.
Roeslein's unique approach to the modular design-build construction process is to provide clients with a high-performance, integrated solution that allows for a greater return on invested capital by improving design and construction phase productivity, enhancing project quality, and speeding up systems and plant operations deployment.
Roeslein's project management teams guide projects from conceptual design all the way through to project start-up and commissioning. Acute involvement in all aspects of project execution allows Roeslein's project management team to cohesively manage customer-driven metrics of cost, schedule, and overall project quality.
Because Roeslein separates process implementation from facility construction the effects of delays and unforeseen circumstances on installation timetables are minimized. No matter what the project's size or location Roeslein's modularized, prefabricated, and preassembled approach provides consistency in the quality of the design, fabrication, installation and, most importantly, the results.
"When you practice something over and over again until it's perfect, you end up with a team that's capable of so much more than just the sum of its parts…"
Rudi Roeslein | Chairman & CEO Roeslein & Associates
Looking Back at 2021 with Roeslein
Jump Start Your Career with Roeslein
Roeslein on Manufacturing Marvels