Become an Employee-Owner with Roeslein & Associates
Pronounced: Race Line
At Roeslein, we are firm believers that our people are the key to our success. We take pride in recruiting the best talent available for every facet of our business.
Roeslein was founded over 30 years ago and takes great pride in anticipating customer needs and providing solutions to improve their plant processes. Whether that solution involves the design, fabrication, and installation of a greenfield canmaking, traditional energy and renewable energy facilities or leading with 3D scanning technology for plant mapping, the team at Roeslein strives to continuously improve the entire plant experience.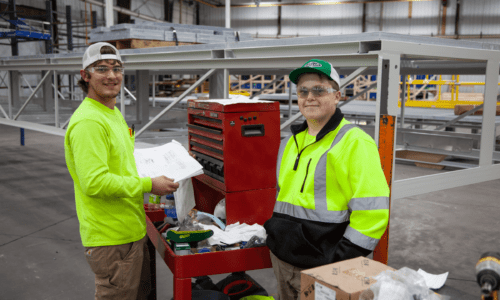 Roeslein employees enjoy dynamic, challenging, and rewarding work that offers a variety of benefits designed to invest in you. We offer a comprehensive benefits structure for regular full-time salaried and hourly positions that includes the following benefits:
Retirement
Employee Stock Ownership Program (US Employees) & Company Match
401(k)
Compensation
Competitive Wages
Bonus Program
Travel Bonus
Paid Time Off
Paid Holidays
Health & Well-Being
Medical, Dental & Vision Insurance
Short-term & Long-term Disability
Life & Travel Insurance
Paid Parental Leave
Roeslein Fast Facts
16
Office Locations Worldwide
1300
Employees Worldwide (and Counting!)
1,000,000
+ Sq. Ft. of Global Manufacturing Space
33
Years of Modular Fabrication Experience
Roeslein's global reach extends beyond its headquarters in St. Louis, MO to facilities worldwide dedicated to serving customers in more than 55 countries, on six continents. We currently have locations in:
Notice to Staffing Services:
Roeslein's Human Resources Department welcomes the services of qualified staffing firms. To submit your interest in supporting Roeslein, all staffing service inquiries must be sent to HR@Roeslein.com. We will be in touch if/as needed. Any staffing company that contacts our employees directly will be permanently removed from consideration for services. Additionally, all resumes submitted by staffing firms to any Roeslein employee in any form and/or method without a valid written agreement in place with Roeslein's Human Resources Department will be deemed the sole property of Roeslein. Thank you for your professional courtesy.