Its St. Louis, Missouri, and Denver, Colorado, locations both participated in events giving back to those in need.  
This is the third holiday season that Roeslein Denver has participated in the Catholic Charities' Adopt-A-Family program that has been helping the Colorado community for over a decade. This program matches compassionate gift donors with seniors, children, and families that would otherwise not receive gifts during this time.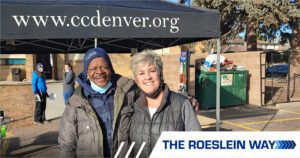 This year, Roeslein donated gift cards from Wal-Mart, Target, Visa, and King Soopers in various amounts to a family of seven and an elder individual. Every family member received a gift card in their name along with a "family" gift card. The goal was to allow each person to feel the magic of gift-giving during the holiday season. 
Ann Birkey, Business Development Coordinator for Roeslein, helped organize the company's contributions. "We try to give back to our local community every year during a time that is very hard for some families and individuals. The Adopt-A-Family Christmas Program helps us give from the heart without taking credit as the donors remain anonymous," stated Birkey.  
Roeslein in St. Louis partnered with Fostering Futures of Missouri, a nonprofit organization with a mission to support and empower children and youth in foster care. The office hosted a Giving Tree and employees were invited to choose an ornament from the tree which then would display an item that was on the wish list of the child it would be donated to. Monetary donations were also accepted, and funds went towards purchasing items that remained on the Giving Tree.  
The St. Louis office was able to support three foster siblings, ranging from 5 to 13 years old. After going through a series of unfortunate events, the foster mom was overcome with emotion and gratitude when receiving the donations. "The fostering family said they weren't in a position to make Christmas happen this year for their grandchildren. Please know you all made a huge difference in the life of this family," Erin Oberbeck, Board of Directors President for Fostering Futures, wrote.   
To learn more about how to make a difference this Holiday season, please visit Fostering Futures of Missouri at https://fosteringfuturesmo.org/, Catholic Charities Christmas Program at https://cclse.org/christmas-program/ or find a local charity of your choice to spread joy this holiday season.  
These donations were made possible by The Roeslein Way. The Roeslein Way is a program that enables employees to benefit others and to challenge each other on how they are contributing to make their communities a better place to work and live. Roeslein encourages all employees to volunteer their time to local community service efforts. Employees have opportunities to volunteer as a group to positively impact surrounding communities while building valuable coworker relationships.  
Roeslein & Associates was founded in 1990, specializing in engineering, manufacturing, and construction services. The company has product offerings in both the container manufacturing industry and the process and energy sectors. Its 1000+ employees are spread throughout offices in North America, South America, Europe, and Asia. To find out more, please visit www.roeslein.com.