Roeslein & Associates recently sponsored a Lone Eagle Honor Flight trip organized by The Honor Flight Network. The Lone Eagle Honor Flight ensures that all veterans, regardless of their geographic location in the U.S., can participate in an Honor Flight trip.  
The Honor Flight Network gives America's veterans the opportunity to travel to Washington, D.C., to visit the memorials dedicated to honoring those who have served the country. All honored veterans travel at no cost to the veteran.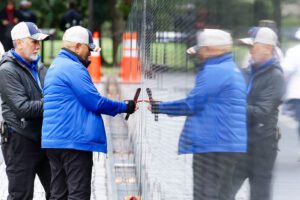 Tom Funk, Product Specialist II for Roeslien, worked closely with the Honor Flight Network to coordinate the event. He said, "It's awesome that we can take part in the Honor Flight Network's vision, 'A nation where all of America's veterans experience the honor, gratitude, and community of support they deserve.' Without them, America wouldn't be where it is now, with the freedoms we possess." 
The Lone Eagle Hub of the Honor Flight Network honors veterans of all service eras but prioritizes those who served during WWII, the Korean War, the Vietnam War, and the periods between these conflicts. Additionally, the Lone Eagle Hub serves critically ill veterans of all service eras who have less than one year to live.  
Roeslein is proud to be able to give back to America's veterans and looks forward to sponsoring another Honor Flight soon. To learn more about The Honor Flight Network or learn how you can get involved, visit https://www.honorflight.org/.  
This donation was made possible by the Roeslein Way. The Roeslein Way program enables employees to benefit others and challenge each other on how they contribute to making their communities a better place to work and live. Roeslein encourages all employees to volunteer their time to local community service efforts. Employees have opportunities to volunteer as a group to impact surrounding communities while building valuable coworker relationships positively. For more information, visit The Roeslein Way – Roeslein & Associates, Inc.