Earlier this summer, it was announced that as of July 30, Roeslein Alternative Energy would merge with Roeslein & Associates, Inc., solidifying the unification of the company's Renewables Division. This past week, Roeslein & Associates celebrated a momentous occasion with its debut appearance at the RNG Works Technical Workshop and Tradeshow. The event, held at Music City Center from September 12-14 in Nashville, Tennessee, marked Roeslein & Associates' first presentation of their extensive capabilities to this industry since the merger between Roeslein Alternative Energy and Roeslein & Associates, Inc.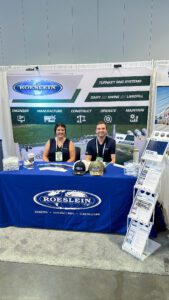 Situated at booth #737 within the exhibition hall, Roeslein made a striking impression on attendees, industry peers, and collaborators alike. The 10×10 tradeshow booth served as a focal point of interest throughout the event, attracting an enthusiastic audience eager to explore the company's state-of-the-art technologies and sustainable energy solutions.
This participation in the RNG Works Technical Workshop and Tradeshow was not merely routine but a significant milestone for the company. It provided an opportunity for Roeslein to unveil its comprehensive range of services, encompassing engineering, procurement, manufacturing, and construction expertise tailored explicitly for the renewable energy market. These services are designed to meet the specific needs of hog, dairy, and landfill customers seeking to harness the potential of renewable natural gas (RNG).
Roeslein & Associates' showcase extended beyond services to encompass an impressive product lineup, showcasing their commitment to innovation in the RNG sector. Highlights of their product offerings include three variable sizes of biogas upgrading systems, a cutting-edge dehydration system, efficient truck unloading systems, plug-and-play interconnect metering stations, high-tech power distribution centers, and sophisticated data management capabilities.
"We are thrilled to have made our debut at the RNG Works Technical Workshop and Tradeshow, representing Roeslein as a merged entity," said John DeMoulin, Vice President of Business Development and Marketing at Roeslein & Associates. Chris Roach, President of Renewables for the company, added, "Our participation in this esteemed event underscores our dedication to advancing sustainable energy solutions and providing comprehensive services to our clients. We look forward to continued collaboration and innovation in the RNG sector."
Roeslein & Associates' presence at this event reflects their commitment to driving progress in the RNG industry, delivering sustainable energy solutions, and advancing their mission to create a greener, more sustainable future.