Customer Focused, Dedicated to Quality Excellence and Safety 
Servtech Inc. /// A Roeslein Company is a vertically integrated custom manufacturer of mission-critical industrial equipment. We have a wide range of experience and skills in the design and manufacture of:
Power Distribution Centers (E-Houses) (Oil, Gas, Water)
LACT Stations, Custody Transfer Metering
Prefabricated Pump Stations
Instrument Air Stations
Custom Electrical and Motor Controls & Panels
UL Listed PLC Panels, SCADA and Telemetry Systems
Mission Critical (PDCs & Edge Data Centers)
The strength of Servtech is its ability to provide and complete projects from skid design, buildings, pipe fabrication and welding, pumps, motors, instruments, conduits/cabling, electrical motor controllers, logic control panels, programming, and on-site commissioning and service. Servtech's goal is to provide clients with a detailed fit for their individual project specific requirements while also providing the best value, quality, and reliability possible. The end result is one-stop warranty and system responsibility, reducing the number of vendors that clients have to engage, and reducing  overall costs, all the while providing more prompt and expert service.
Servtech operations are based out of a 100,000 sq. ft. state-of-the-art,  custom manufacturing facility in Louisville, Colorado.
Offering the design and manufacture of prefabricated pump and metering stations and custom electrical equipment that offers clients the following benefits:
Complete turnkey packaging to provide true plug and play Power Distribution Centers, Pump and/or Metering Stations that include the structural skid, building, pumps, motors, switchgear, transformers, motor controls, logic controls, instrumentation, piping, valves, conduits, cabling, PLC logic programming, HMI monitoring, all completely assembled and factory tested.
Quality Assurance and Control, built in a controlled environment and tested before shipment.
Reduced on-site installation labor and time, reducing overall costs, especially in difficult remote areas.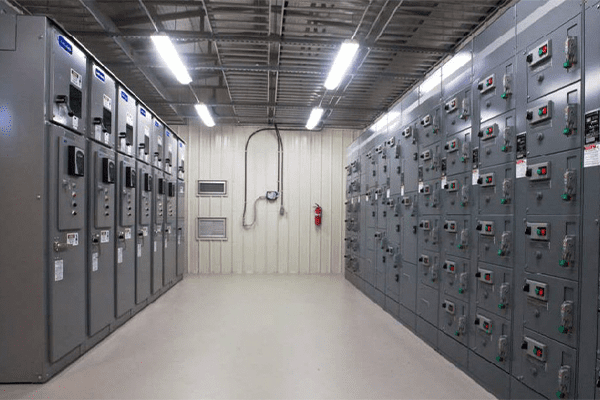 Power Distribution Centers (E-Houses)
200 Volt to 35,000 Volts

Self Contained Skids & Buildings

Switchgear, VFDs, MCCs, PLCs, UPS

Design, Manufacture, and Factory Testing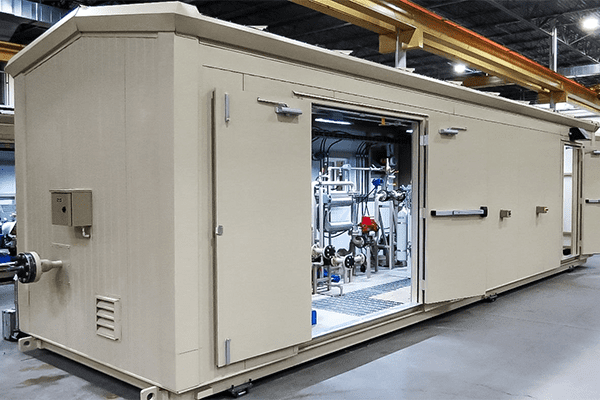 LACT Stations, Custody Transfer Metering
Custom Design to fit Specific Client & Site Requirements

Multiple Pump Technologies

Metering Accuracy, Flow Computers

Truck Off-Loading, Transfer LACTs, Permanent LACTs
Prefabricated Pump Stations
All complete with Electrical and Control Equipment

Turn-Key, True Plug and Play

Oil Booster Pipeline Pump Skids, Buildings

NGL and LNG Pump Skids, Complete

Water Supply Pump Facilities
Instrument Air Stations
Packages can be equipped with:
100% redundant compressors and air-drying systems for mission critical applications

Rotary screw or reciprocating

Variable speed and site power distribution

Gas, fire, cooling, and heating systems

Communications and monitoring

Local building authority certifications
Custom Engineered UL Listed Electrical Panels
Variable Frequency Drives, ABB, Yaskawa

Programmable Logic Controllers, Allen Bradley, Schneider

Custom Packaging to handle: Heat, Cold, Dust, Altitude

Custom Enclosure Design and Manufacture
Injection Pump Stations
Turnkey package that is mounted on a structural skid

Housed in a climate-controlled building

Complete with Pumps, Piping, Valves, Motors, Instrumentation, Electrical and Control System

Cost-effective, reliable, and ready for site connection
Servtech Operational Services
Bringing Expertise Wherever You Need It
Factory-trained technicians perform commissioning, field service, and field repairs for all Servtech products and equipment, including:
Pumps: Centrifugal, Gear, Multi-stage
Motors: Induction, Horizontal, Vertical
Variable Frequency Drives:   Low Voltage (240 to 600 VAC), Medium Voltage (2,300 to 6,000 VAC)
PLC Controllers:   Allen Bradley, Schneider
Flowmeters, Pressure Transmitters, Level Transmitters: Micro Motion, Rosemount
Servtech Field Service Tools and Equipment:
Crane Service Trucks with complete hand tooling
Pump/Motor Shaft Laser Alignment Tools
Portable Generator, Welding
Laptop Computers, Diagnostic Software
True RMS Multimeters, Voltage/Amperage/Frequency Diagnostic
Power Quality Meter, Harmonic Measurement/Studies
Vertical Turbine Pump Stations

Crude Oil Pump Stations

Meter Stations/Buildings

Compact Instrument Air Packages                                                              
Servtech, Inc. welcomes the opportunity to work with you. Have questions? Ready to schedule a meeting? Contact a member of Servtech's business development division to start planning your prefabricated, preassembled, modularized solution today.
  Visit Servtech
333 Centennial Parkway, Suite A, Louisville, CO
  Call Servtech
+1 (866) 885-9616